Yes, there's a little bit of sugar in my system right now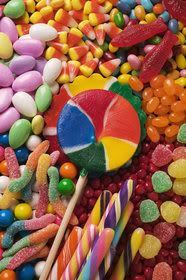 We had exactly zero trick-or-treaters last night. The porch light was on, we had a bowl full of assorted chocolate candy, we were home...but nobody showed up. I guess it might be because we're in a pretty remote location.
However! Inspired by Candy Day (some call it Halloween), I have added a link to a blog I just found:
Candyblog
! It's a blog about candy! I haven't even begun to read the archives and I'm thrilled to have found this blog! It's a blog about candy candy CANDY
CANDY!!!CANDY CANDY CANDY CANDY!!!