Doritos scores with Spicy Sweet Chili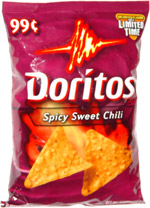 I just opened a small bag of these chips to try them out, and I have to say, wow. Each bite starts with an unmistakable taste of soy sauce (!) and then it kicks you with a bit of chili spice. I seriously want to buy a big bag of these, although I'm afraid I'd eat them all in one go.
I can't imagine that these chips need anything to be dipped into; however, a light coating of ranch dressing might temper the cumulative spiciness after a while.
Hooray for Doritos! Now I can forgive them for last year's atrocious X-130 flavor experiment (which was like eating a McDonald's cheeseburger in crunchy chip form...so
weird
).